Red stands for life. Orange stands for healing. Yellow, for sunlight, and green, for nature.
Indigo means harmony.
And purple represents spirit.
The colors of the pride flag, signifying solidarity with the LGBTQ community, will light up the Johns Hopkins University gateway on Charles Street through June 28.
The color lighting comes in the wake of last week's attack on an Orlando nightclub—the deadliest mass shooting by a single gunman in American history, as well as the deadliest act of terrorism in the U.S. since the attacks of Sept. 11, 2001. The Johns Hopkins community has banded together to mourn the victims and show support for the LGBTQ community.
"With pride, with empathy, and with hope for a better, safer, more humane future for all, Johns Hopkins University stands in solidarity with Orlando, the LGBTQ community, and all those affected by this senseless and devastating violence," says Johns Hopkins University President Ronald J. Daniels.
Members of the faculty and staff have also offered their support. The Office of LGBTQ Life at Johns Hopkins hosted a healing session Thursday afternoon, welcoming Hopkins community members to Homewood Apartments for companionship and counseling, and to decorate a poster for next month's Baltimore Pride parade.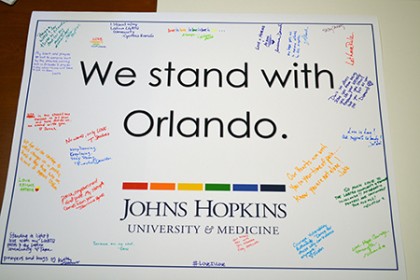 "The attack on what is historically a safe place for the LGBTQ community is devastating," says Demere Woolway, director of LGBTQ Life. "It's overwhelming to see the faces of those who lost their lives, so many of them young Latino men. Still, amidst this grief, it is affirming that so many of the Hopkins community have been asking what they can do to be supportive. They have reached out to me and to each other, and have participated in the larger Baltimore community. Even in this difficult time, we can come together as a community to support each other."
Next week, rainbow flags will be raised at The Johns Hopkins Hospital, Johns Hopkins Bayview Medical Center, Johns Hopkins All Children's Hospital, Howard County General Hospital, Sibley Memorial Hospital and Suburban Hospital. The flags will fly through the end of June in support of LGBT Pride Month and to honor those murdered and wounded in Orlando.
In an email to his colleagues at the Whiting School of Engineering, Professor Michael Falk noted that faculty members are uniquely positioned to act as allies for students, particularly those who are lesbian, gay, bisexual, transgender, or queer identifying, and who are likely to be assessing their safety in work and study environments following the attack.
He urged faculty to take part in the Safe Zone program, which offers training in forming a safer and more supportive campus climate for sexual and gender minorities.
Human Resources and Homewood Student Affairs compiled a list of resources for the university community:
Faculty and staff who need emotional counseling or support can contact the Faculty and Staff Assistance Program. You can make an appointment at FASAP by calling 443-997-7000. After hours and on the weekends, master's-level professionals are on call.

Students who would like emotional counseling, or are concerned about a friend, may contact the Counseling Center by calling 410-516-8278. Outside normal hours, the counselor on call may be reached through Security at 410-516-7777. The Johns Hopkins Student Assistance Program serves graduate students during challenging times. You may seek support for yourself or a friend by calling 443-287-7000. After hours and on the weekends, master's-level professionals are on call.

Some additional sources of support for full-time students include the Office of LGBTQ Life (410-516-8208) and Campus Ministries (410-516-1880).
The lights on the Johns Hopkins University gateway will remain through June 28, the 47th anniversary of the Stonewall Riots.