Filmmaker Spike Lee delivered a passionate and at times pointed address at Johns Hopkins University's commencement ceremony on Wednesday, encouraging members of the Class of 2016 to "build bridges of love versus walls of hate."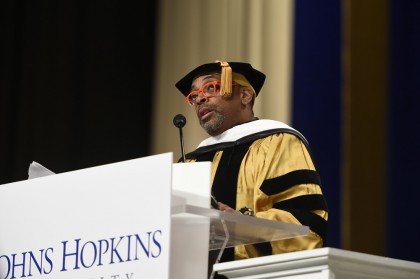 Lee, whose works including Do The Right Thing and Jungle Fever have challenged assumptions about race and prejudice, spoke frankly about ongoing threats to social justice such as racial profiling, mass incarceration, and police violence.
"We are at a very crucial moment in history in these United States of America," he began. "And the way I'm looking at it today, to tell you the truth, things are looking dicey.
"I wish you could be graduating into a world of peace, light, and love, but that's not the case," he added. "After you leave here today, it's going to be real life, and real life is no joke."
Lee praised the graduates for their intellect and urged them to stay on "the straight and narrow," adding "it's up to the graduating classes of 2016 to make a better world for the 99 percent."
Lee ended with a reading of the Prince song "Baltimore," released last year after the unrest that followed the death of Freddie Gray. He repeated the refrain—"if there ain't no justice then there ain't no peace"—before ending his address by saying "Black Lives Matter."