Three members of the Johns Hopkins community—social scientist Andrew J. Cherlin; neuroscientist Alex L. Kolodkin; and Sanford Greenberg, chairman of the Wilmer Eye Institute's Board of Governors—are among 213 new inductees to the American Academy of Arts and Sciences.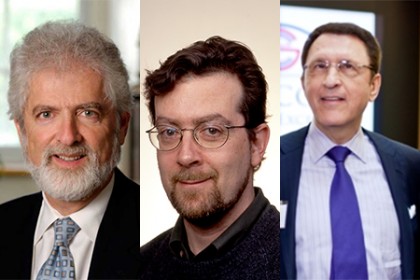 The 236th class of the honorary society includes winners of the Pulitzer Prize and the Wolf Prize; MacArthur and Guggenheim fellowships; the Fields Medal; and Grammy and National Book awards. Among the new members are professor and autism spokesperson Temple Grandin; novelist, critic, and poet Colm Tóibín; and Jacqueline Hewitt, the astrophysicist who discovered Einstein rings. A complete list of the 2016 class can be found online.
The new class will be inducted at a ceremony on Oct. 8 in Cambridge, Massachusetts.
Cherlin, a professor in the Department of Sociology who joined the Johns Hopkins faculty in 1976 and a 2005 Guggenheim Fellow, studies the sociology of the families and public policy. He has published books and articles on topics such as marriage and divorce, children's well-being, intergenerational relations, family policy, and welfare policy. He is the author of The Marriage-Go-Round: The State of Marriage and the Family Today (New York: Alfred A. Knopf, 2009) and Labor's Love Lost: The Rise and Fall of the Working-Class Family in America (Russell Sage Foundation, 2014).
"I'm very honored to be elected to the academy, particular given the broad range of its membership," Cherlin said. "I feel privileged to be linked to leading artists, writers, humanists, and others outside of my field."
Kolodkin is a professor of neuroscience at the Johns Hopkins University School of Medicine. His research is focused on understanding how neuronal connectivity is established during development. As a postdoctoral fellow, Kolodkin discovered and cloned the first semaphorin gene in the grasshopper. More recently, his team decoded the activity of protein signals involved in muscle-nerve connections in fruit flies.
Greenberg is a businessman, philanthropist, and leading donor for The Sanford and Susan Greenberg Prize to End Blindness by 2020, announced by the Johns Hopkins WIlmer Eye Institute in October 2012. The prize—$2 million in gold bullion—will be awarded on Dec. 13, 2020, to the person, team, or enterprise that does the most to end blindness by the year 2020. Greenberg vowed to end blindness after suddenly losing his vision to glaucoma at age 19. He is a trustee of Johns Hopkins Medicine and a trustee emeritus of Johns Hopkins University.
Founded in 1780, the American Academy of Arts and Sciences brings together some of the world's most accomplished thinkers, artists, and leaders and is also a leading center for independent policy research, with members contributing to publications and studies.