In the hours following the clash outside Baltimore's Mondawmin Mall between police officers and students from a nearby high school, a line of citizens, dressed mostly in black, linked arms and marched south on Monroe Street toward North Avenue, a human barricade attempting to calm and contain rioters. These were members of the clergy: pastors and imams of all ages, arm in arm, chanting together and calling for peace on the day of the funeral of Freddie Gray.
The footage of members of the clergy coming together in the midst of the city's unrest inspired Asher Kolieboi to seek out career opportunities in Baltimore. The assistant chaplain for the Johns Hopkins University Campus Ministries—who joined the staff just a few months after the nationally publicized events of April 2015—is fascinated by the intersection of faith and social justice, informed by his own experiences as a community organizer during the Ferguson protests.
"Ferguson was the first time I saw people of faith doing the work I had always been committed to," he says. "I've never seen so many people of faith participating in—and locked up for—using their bodies as a witness to the injustice going on."
He doesn't see it as a choice, but a moral imperative. "[O]ne of the byproducts of oppression is it crushes people spiritually," he told ThinkProgress in August.
During his sophomore year of college, Kolieboi's family moved from St. Louis to neighboring Ferguson, Missouri, settling within 1,000 feet of the Ferguson Police Department. Kolieboi recalls that he had been visiting New York City when the news broke that 18-year-old Michael Brown had been fatally shot by Ferguson police officer Darren Wilson.
"If we can create diplomats, scientists, and physicians who recognize the importance of human dignity and who incorporate that into their work, that's where the Interfaith Center will be successful."
Asher Kolieboi, JHU assistant chaplain
Kolieboi remembers emerging from an underground subway station to face a giant banner reading "Harlem for Ferguson." He knew then that the place he called home, once a small and forgettable suburb, was about to shake the country.
Though he was attending the divinity school at Vanderbilt University in Nashville at the time, he began weekly—and sometimes more frequent—visits home. "It felt like possibly the most important social and civil rights event was happening right at my doorstep," he says. "I couldn't just say 'No, I'm in school right now.' So I kept going back."
Kolieboi, 30, made the news for his participation in the protests when he and his friends, wanting to unite the hundreds of disparate groups who had assembled, constructed a pageant puppet—a giant figure of a black man in a white hoodie, his hands up in surrender. Kolieboi wore this symbol strapped to his back.
"I knew I wouldn't be able to stand in front of my ordination committee a year from then and say 'yes I want to be a minister' knowing that this was happening literally at my front door and I had done nothing," he says. "I couldn't imagine someone calling themselves a minister and remaining silent in the face of injustice."
He likens the protests staged around the country in support of Ferguson to the Arab Spring in the Middle East, a cultural—and personal—awakening of grassroots activism. But he's not blind to the challenges facing social justice movements. The current presidential campaign, he says, is a prime example of why Americans need a greater understanding of different cultures and faith practices. "I don't think there's a better spokesperson for religious literacy than Donald Trump," he quips.
Kolieboi's experiences in Ferguson shifted the way he thinks about the role of religion in people's lives. He calls it "praying with your feet." The joining together of people of different backgrounds strengthened the movement in Missouri, he says, and the interfaith community-building effort has persisted there ever since.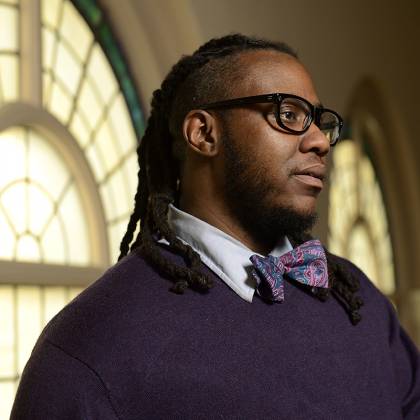 At Johns Hopkins, Kolieboi counsels students from all religious (or non-religious) backgrounds. He offers guidance through a variety of issues, including those relating to depression, mental illness, surviving sexual violence, and coming out to one's family.
"These Hopkins students—they're very driven, they're very successful. They're going to be scientists, or physicians, or diplomats," he says. "But if we can create diplomats, scientists, and physicians who recognize the importance of human dignity and who incorporate that into their work, that's where the Interfaith Center will be successful."
A few months after settling in at Hopkins, Kolieboi found himself caught up in another major movement as it swept the country, this time on college campuses. At the University of Missouri, his undergraduate alma mater, students participated in protests, hunger strikes, and a boycott by the school's football team in response to on- and off-campus discrimination and what students felt was an inadequate response from the school's administration.
When the JHU Black Student Union staged a similar campus protest in November, Kolieboi says he was impressed by their approach, calling it a "page out of Student Organizing 101." But as a chaplain, he was focused more on the Hopkins students' well being and what they needed at that time.
"When you work at a college, you want to see your students engaged," he says. "And this shows significant engagement in their educational process. They were doing this because they care and are invested in the university."
The spring semester has been a busy time for Kolieboi, who in January was named by the Center for American Progress one of 16 Faith Leaders to Watch in 2016. He has organized Open Hands, Open Hearts meetings, where students gather to make bagged lunches for residents of East Baltimore who are HIV positive. In March, he and a group of 10 JHU undergrads spent four days in Detroit for an Alternative Spring Break program examining issues of food access in the bankrupt city. And he has ongoing programming to coordinate, including helping a Campus Ministry intern develop a program examining the intersection of religion and sports.
He juggles all of this under the looming deadline of his ordination paper, which must be completed this year and defended in front of an ordination committee panel. He worries that he was perhaps overly ambitious in committing himself to completing what is essentially a second thesis so soon after graduation. So why the rush?
"I promised to marry three different couples this year." He laughs at himself as he says it, but it's clear that performing sacraments and church ceremonies is of deep, personal significance.
For many people—those within the LGBTQ community in particular—religious organizations can be exclusionary. So Kolieboi, who is transgender, focuses his study and programs on acts of faith that incorporate practices that welcome all individuals. Part of his graduate thesis was creating worship services specifically for transgender people, such as renaming ceremonies or baptisms.
"I try to wake up every day and be the person my 15-year-old self needed," he says.