Johns Hopkins junior Andrew Greenhalgh won his second straight national championship in the 500-yard freestyle on Wednesday night, and the Blue Jays men's swimming team accumulated 79 points to rank fourth in the team standings after the first day of the NCAA Division III Men's Swimming and Diving Championships in Greensboro, N.C.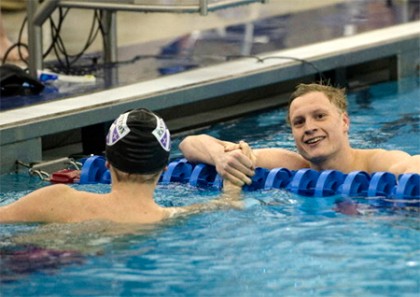 Greenhalgh sat just behind eventual runner-up Arthur Conover of Kenyon for the first 400 yards before edging ahead for the first time between the 400 and 450-yard marks. He finished in 4:21.83, the second-fastest time in school history and .86 seconds ahead of Conover. In winning the 2015 title, Greenhalgh set an NCAA record with a time of 4:20.60.
JHU sophomore Griffith Otazu took eighth placed in the 500 free.
In the 200 individual medley, Johns Hopkins junior Evan Holder took second in 1:46.40, just .40 behind national champion Jackson Lindell of Denison.
Denison totaled 131 points to grab the top spot in the team standings, with by Kenyon (117.5), Emory (105), Johns Hopkins (79), and MIT (48) rounding out the top five.
On the women's side, Hopkins sits in 12th place with 21 points of the first day of competition. Sophomore Kaitlin Jones placed ninth in the 200 IM, winning the consolation final in 2:03.49.
The competitions run through Saturday at the Greensboro Aquatic Center.