Sociologists tracking patterns of American poverty have emphasized for years that "place matters." Now, the White House is increasingly embracing this idea in its efforts to shape policy and address economic disparities.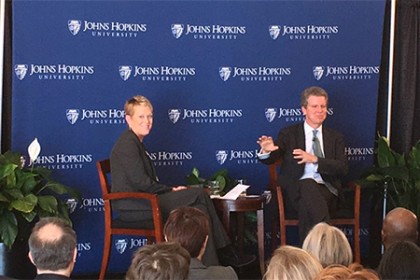 Shaun Donovan, director of the White House Office of Budget and Management and former U.S. Secretary of Housing and Urban Development, visited Johns Hopkins University on Tuesday to discuss the Obama administration's approach to poverty. He spoke with JHU professor Kathryn Edin, a sociologist whose research work focuses on poverty and co-author of the recently published book $2.00 a Day: Living on Almost Nothing in America, which examines the role of welfare reform in the rise of American poverty.
The event, held at the Johns Hopkins Carey Business School and hosted by JHU's 21st Century Cities Initiative, came a day after President Obama's final State of the Union address.
Donovan talked about "an alphabet soup of different programs" the government is using to tackle poverty at the community level—some of which will see big funding increases in the White House budget next month, he said. He also announced the launch of a new $2 billion pilot program to provide funding aid to families in times of temporary crisis, like health emergencies or car breakdowns.
Donovan noted a marked shift in mindset that's defined recent policies. His keyword was "customize."
In the past, he said, Washington took a "one-size-fits-all, top-down approach" to poverty, one that often meant coming into public housing projects with a wrecking ball "to knock everything down and start over." The current approach is more sensitive to the variations of individual communities, Donovan said.
"If the local community is not leading," he said, "we're going to fail."
That shift falls in line with Edin's concentration on "place-based policy." The Johns Hopkins Bloomberg Distinguished Professor has emphasized the significance of zip code for each American's prospects of social and economic mobility. In particular, she pointed to a recent Harvard study that showed strikingly better outcomes for children who moved from high poverty areas into mixed-income neighborhoods through an experimental government program.
"By changing a kid's address, you can change her life," Edin said.
Donovan called such impoverished realities "simply un-American." On top of the wasted lives and potential, the economic ramifications for the country are enormous—up to a trillion dollars a year, he estimated, from effects such as lost taxes, lost wages, and health care costs.
Several programs that aim to "stop the bleeding" will see more investment in the Feb. 9 White House budget, Donovan said. In addition to the new emergency aid fund he announced, he said both the Promise Neighborhoods and Choice Neighborhoods programs, which focus on education and housing respectively, will see millions in funding boosts.
Edin and Donovan discussed policies and programs that could help Baltimore, with Donovan pointing to the White House's TechHire, which tackles unemployment, as an example of a customized program that makes a good match for the city.
Asked about Maryland Gov. Larry Hogan's $700 million plan to tear down and redevelop thousands of vacant properties in Baltimore, Donovan said, "The truth is, demolition is part of the solution," but added that it can't be wholesale.
Detroit, he said, managed to avoid a blind sweep of teardowns through a sophisticated mapping project that identified salvageable buildings.
"That allowed a much more strategic approach," he said.