Lifelong learning programs offer seniors and retirees the opportunity to socialize and continue to learn in an invigorating and welcoming environment. A recent article in The New York Times features the Osher Lifelong Learning Institutes at Johns Hopkins, exploring the educational opportunities the programs provide.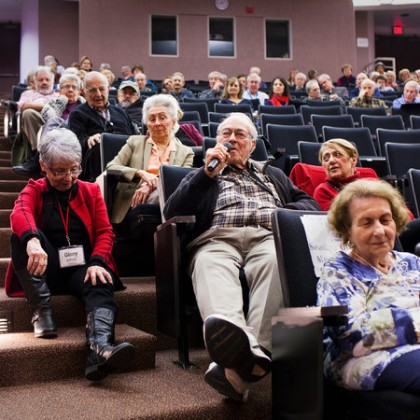 Medical research has indicated that intellectual stimulation and social interaction can help people keep their minds sharp and stave off the risk of Alzheimer's disease as they age. The Times cites a 2012 study by scientists at the Rush Alzheimer's Disease Center and Rush-Presbyterian-St. Luke's Medical Center in Chicago that found that frequently engaging in "cognitively stimulating activities"—such as reading, working on crossword puzzles, playing cards, going to museums, and attending classes—is associated with a reduced risk of Alzheimer's disease.
About 150,000 men and women nationally participate each year at more than 119 Osher Lifelong Learning Institutes, according to The Times, including at campuses in Baltimore, Rockville, and Columbia. From The Times:
The institutes, affiliated mostly with colleges and universities, are among the best-known advanced adult educational programs in the country. Along with an array of other such programs fitting under the "lifelong learning" umbrella, they tend to attract educated, passionate people who are seeking intellectual and social stimulation among peers who often become new friends.
"They don't want to be isolated," Mary Kay Shartle Galotto, the director of the local program, tells The Times. "If your mind's active and you have opportunity for social networking, it gives you a life."
Osher at Johns Hopkins, which has 1,200 members and 500 on the waiting list, celebrates two major milestones this academic year: the program's 30th year at Johns Hopkins and its 20th year at JHU's Montgomery County Campus in Rockville.
Read more from The New York Times