The Poems of T.S. Eliot, edited by Christopher Ricks and Jim McCue and published by Johns Hopkins University Press, has been named the 2015 winner of the Inside Higher Ed Readers Choice award for the best university press book of 2015 that would make the best holiday gift for someone in academe.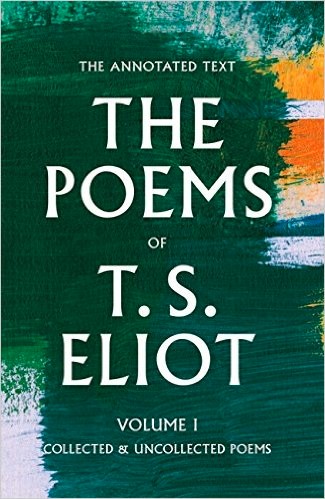 More than 300 books were nominated for the award on Twitter or Facebook, and more than 1,350 votes were cast.
More on the book, from JHU Press:
This critical edition of T. S. Eliot's Poems establishes a new text of the Collected Poems 1909–1962, rectifying accidental omissions and errors that have crept in during the century since Eliot's astonishing debut, "The Love Song of J. Alfred Prufrock." As well as the masterpieces, the edition contains the poems of Eliot's youth, which were rediscovered only decades later, others that circulated privately during his lifetime, and love poems from his final years, written for his wife Valerie Eliot.

Christopher Ricks and Jim McCue have provided a commentary that illuminates the imaginative life of each poem. Calling upon Eliot's critical writings, as well as his drafts, letters, and other original materials, they illustrate not only the breadth of Eliot's interests and the range of his writings, but how it was that the author of "Gerontion" came to write "Triumphal March" and then Four Quartets. Thanks to the family and friends who recognized Eliot's genius and preserved his writings from an early age, the archival record is exceptionally complete, enabling us to follow in unique detail the progress of a mind that never ceased exploring.
Read more from Inside Higher Ed