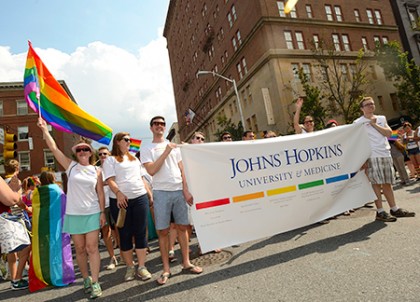 About 150 people representing Johns Hopkins University, Johns Hopkins Medicine, and JHU's Applied Physics Laboratory—including several who teamed up to create a colorful "scrubs rainbow"—took part in Baltimore's 40th annual LGBTQ Pride parade on Saturday afternoon. The parade, in the city's Mount Vernon neighborhood, was part of a Pride celebration that stretched into Sunday morning.
This is the second year Johns Hopkins has participated in the event, though fewer than 10 people took part a year ago, according to Demere Woolway, director of LGBTQ Life at JHU.
"I was delighted to see so many people from all across Hopkins come out to celebrate Pride," she said.
This was Baltimore's first Pride celebration since a landmark Supreme Court ruling last month legalized same-sex marriage nationwide.
JHU's participation was supported by JHU's Office of LGBTQ Life, JHM's Marketing & Communications Employee Engagement and Diversity Committee, the JHHS Office of Diversity and Inclusion, the Department of Pathology, and the School of Medicine LGBTQ Curriculum Team.