Johns Hopkins swimmers captured two national titles on the first night of the Division III men's swimming championships in Shenandoah, Texas, on Wednesday, with senior Ana Bogdanovski repeating as champion in the 50-meter freestyle and sophomore Andrew Greenhalgh setting a national record in the 500 freestyle.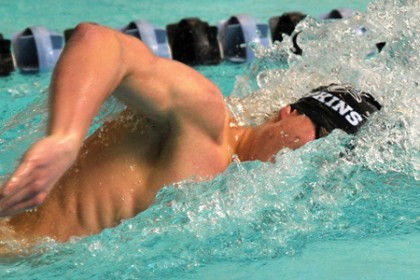 Greenhalgh became the Blue Jays' first national champion in the 500 free since 1981, and his time of 4:20.60 set a Division III record. Greenhalgh's win was good for 20 points for JHU's men's team, which also got a third-place finish from sophomore Evan Holder in the 200 individual medley.
The Blue Jays are in sixth place after the first day with 46 points. Kenyon is in first place with 109 points.
On the women's side, Bogdanovski won her second consecutive national title in the 50 free—and the third individual national title of her career—with a time of 22.85, just off her 2014 winning time of 22.80. Johns Hopkins has 68 points, good for fifth place overall. Emory currently sits in first place in the team standings with 135.5 points.
The Division III national swimming championships continue through Saturday. Fans can see live results and video online.