Pamela R. Jeffries, who has been a professor at the Johns Hopkins University School of Nursing since 2009 and in 2013 was named the Johns Hopkins' inaugural vice provost for digital initiatives, was announced as the next dean of George Washington University's School of Nursing today.
"Dr. Jeffries is a nationally recognized innovator with a strong background in research and extraordinary expertise in the application of technology to teaching and learning," said GW President Steven Knapp. "She understands the complexities of 21st century health care and has the vision and experience to guide our School of Nursing as it prepares the next generation of nursing and health care leaders."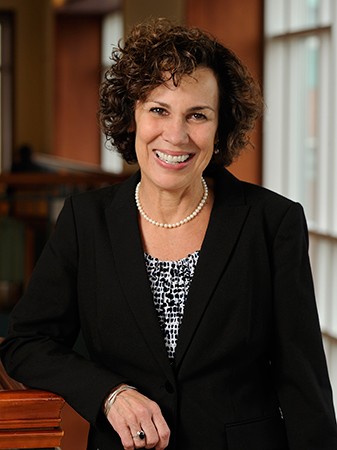 Prior to her appointment as a Johns Hopkins vice provost, Jeffries served as the Johns Hopkins School of Nursing associate dean for academic affairs and vice dean of faculty from 2009 to 2013. While in that role, she led the school in its online education initiative, launching more than 40 courses and two online master's programs.
She will begin her new role on April 6, 2015, succeeding Jean Johnson, founding dean of the GW School of Nursing, who retired in December 2014.
"I am honored to join George Washington University nursing at this transformational time in nursing, higher education, and the development and growth of the school," Jeffries said. "Leading a new nursing school in its early years is a unique opportunity and one that few nursing leaders are privileged to experience. Dr. Johnson has built a strong foundation on which the faculty and I can now continue to develop an outstanding school of nursing in the nation's capital. It is a challenge I eagerly accept, and I look forward to sharing the rewards of success with faculty and students."
In her more than 30 years in academia, Jeffries has held numerous faculty and leadership positions. Earlier in her career, she served as associate dean of undergraduate programs at the Indiana University School of Nursing, where she implemented a faculty/student mentor program and assisted in the design of a state-of-the-art medical simulation center.
"Dr. Jeffries distinguished herself from an exceptional pool of candidates with her diverse academic portfolio and dynamic vision for our School of Nursing," said GW Provost Steven Lerman. "I am confident she will build on the foundation of excellence created by her predecessor, Dean Jean Johnson, to raise the school's prominence as the leader in nursing education."
Jeffries has received numerous awards and honors in recognition of her work in higher education and her many accomplishments and innovations in preparing future nurses. In 2013, she received the American Association of Colleges of Nursing's Scholarship of Teaching and Learning Excellence Award and in 2012 was inducted into the Sigma Theta Tau International Researchers Hall of Fame. She is a Robert Wood Johnson Foundation Executive Nurse Fellow and a fellow of the American Academy of Nursing, serves on the Institute of Medicine Innovation in Health Professional Education Global Forum, and is immediate past-president of the Society for Simulation in Healthcare. She has consulted for national regulatory bodies such as the National Council State Board of Nursing, as well as large corporations and health care organizations. She has published scores of peer-reviewed articles and numerous books, and has disseminated her work throughout the world. Her research on innovative teaching strategies, online learning, practice partnerships, and clinical simulations has been shared widely across the U.S. and in 14 countries.
"Dr. Jeffries's vision, experience, and scholarship immediately impressed the committee," said Dr. Christine Pintz, chair of the search committee. "Her extensive experience in academic leadership is well suited to developing and building upon the success of the School of Nursing. Her expertise in simulation, online education and best practices in teaching will continue to foster the innovative and creative teaching and research that has distinguished GW's nursing faculty."
Dr. Jeffries received a Bachelor of Science in Nursing degree from Ball State University in 1976. She earned a Master of Science in Nursing in 1982 and a doctorate of nursing in 1996 from Indiana University.