A record number of high school students applied early decision to the Johns Hopkins University this fall, identifying it as their top choice and committing to attend if admitted.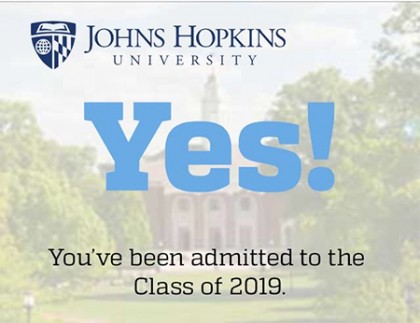 The 1,865 applicants represent a 17 percent increase from last year's early decision pool, which had already seen a 10 percent increase from the prior year. This group of applicants also represents the most academically competitive early decision applicant pool in Johns Hopkins' history, with 91 percent in the top 10 percent of their graduating classes.
Total applications received: 1,865
Total students admitted: 539
53 percent male, 47 percent female
Whiting School of Engineering: 32 percent of admitted class
Krieger School of Arts and Sciences: 68 percent of admitted class
41 states and 18 countries represented
Applicants have more options than ever before when applying to college and increasingly, the best students from around the world are looking to Johns Hopkins, Director of Undergraduate Admissions Ellen Kim said.
"This is an exciting time to be an undergraduate here, and high school students researching their college options see that," Kim said.
Vice Provost for Admissions and Financial Aid David Phillips added: "With countless opportunities to work alongside leading faculty, conduct independent research across academic areas, and tackle important leadership roles outside the classroom, the success of current Johns Hopkins students and alumni has laid the foundation for future generations."
Students in the early decision Class of 2019 are balancing their schoolwork and high school activities with high-impact experiences. Their achievements include research on a NASA project, starting a nonprofit to provide housing and schooling for the homeless, raising more than $25,000 to build wells in Niger, starting a local youth empowerment organization, and serving as founder and CEO of a company.
"These students have such a diverse array of backgrounds, interests, and achievements," Kim said. "We're looking forward to seeing the perspectives they will bring to the classroom and the impact they will make across campus and beyond."
Students who applied early decision can view admissions decisions at mydecision.jhu.edu.
The remainder of the Class of 2019 will be selected from the regular decision applicant pool. Regular decision applications are due Jan. 5 and admissions decisions will be released by April 1.