In its first-ever trip to the NCAA Division III semifinals, the Johns Hopkins women's soccer team fell behind in the 10th minute, came up empty on a number of scoring chances thereafter, and fell 1-0 to Williams College on Friday night at Swope Soccer Village in Kansas City, Missouri.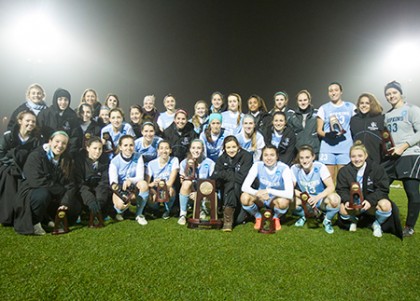 The best scoring chance for the 20th-ranked Blue Jays (19-4-2) came in the 24th minute, when a shot by Hannah Kronick—the program's all-time scoring leader—ricochetted off the cross bar. A follow-up attempt at close range was turned away by Williams goalkeeper Hannah Van Wetter.
JHU owned a 10-6 advantage in shots and a 10-4 edge in corner kicks but could not find the back of the net.
The Ephs (21-1-1), ranked No. 5 nationally, got on the board in the 10th minute on a goal by Audrey Thomas. Williams came up short in Saturday's national championship game, falling 4-3 in a penalty kick shootout to No. 1 Lynchburg (27-0-1) after 110 scoreless minutes of play.
JHU's seniors finished their careers with a 79-12-4 record over four seasons.