Two students from the Johns Hopkins Bloomberg School of Public Health and one from the School of Medicine were delegates at the CDC's 2014 Millennial Health Leaders Summit held last month in Atlanta.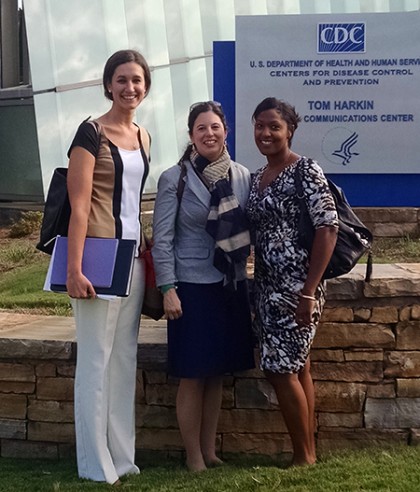 Cassie Boles, MPP '15; Shana Bartley, MSPH '15; and Kate Miele, MD '15, described their experiences at the summit.
How did this opportunity rank among other experiences you've had at the School of Public Health?
Bartley: This is one of my top memories at the Bloomberg School of Public Health. This experience reinforced much of what I learned about public health practice through my coursework. Public health professionals at the CDC receive their training in a variety of fields and contribute their knowledge to solve public health problems. Researchers, urban planners, physicians, policy experts, anthropologists and more come together to address health disparities.
How would you describe the experience to other students?
Bartley: This experience provides an opportunity to learn more about how the CDC works to address health disparities. Students also have the chance to connect with other students with training in various disciplines within the field of public health interested in combatting health disparities. The summit includes a combination of interactive workshops with leaders in the field, opportunities for networking with CDC scientists, and real-life case studies that challenge students to problem solve.
What level of support did you receive from your department and faculty?
Boles: Based on recommendations from our faculty advisors, the university selected Shana, Kate, and me to represent Johns Hopkins at the summit in Atlanta. The Department of Health Policy and Management generously sponsored travel, meals, and accommodations for both Shana and me to participate in the two-day summit at CDC's headquarters. I am incredibly grateful for the support and encouragement from the HPM faculty and for their belief in our ability to address health disparities in the United States. This experience will continue to provide us with resources and inspiration to achieve health equity.
How did the Master of Public Policy program prepare you for this experience?
Boles: The summit complemented the university's efforts to address health disparities by focusing on the social determinants of health and community collaboration. One of the key takeaways from the summit outlined the importance of understanding how to implement evaluation-informed policies by analyzing the political and economic aspects in addition to the scientific data, which is the emphasis of our MPP program. Furthermore, I believe the MPP core curriculum prepares students to be succinct communicators and intersectoral collaborators through hands-on opportunities to apply our learned policy knowledge. As a result of these experiences, I could contribute a well-rounded perspective during the sessions that analyzed a variety of complex issues that need to be addressed by multiple stakeholders in order to attain health equity.
What was it like representing Johns Hopkins University at the Summit?
Miele: Living and learning in Baltimore greatly informed my experience at the summit. I was able to draw on my depth of exposure to many of the most complicated issues we discussed and to reflect about our experiences addressing these issues, including sexually transmitted infections, contraception, food deserts, obesity, prisons, housing, transportation, and safety. I am also excited to bring back the resources and ideas we discussed at the summit to Baltimore for discussion with my colleagues at Johns Hopkins and throughout Baltimore.
What are your hopes and plans for the future, and will your experience in Atlanta influence your path?
Miele: In Atlanta we learned a lot about opportunities to work in public health and preventive medicine. Public health is not a field with a linear trajectory that one can follow to a final career, and the summit helped me to realize some of the particular paths that are most exciting for me. I will begin my residency in obstetrics and gynecology next year. The summit helped me to understand how this training will inform my future practice of public health and how I can successfully re-enter the field when I have completed my clinical training."