A panel that included women in leadership positions at a top technology company—Bloomberg LP—convened at Johns Hopkins University last week to address the ongoing need to support talented young women in science, technology, engineering, and mathematics.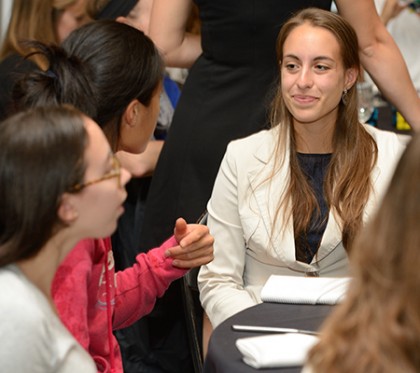 Lucy Sanders, co-founder and CEO of the National Center for Women & Information Technology, moderated the panel. She was joined by Bloomberg LP's Anne Erni, head of Human Resources; Beth Mazzeo, chief operating officer; Adam Wolf, engineering manager for Foundational Applications; and Yunfei Xu, engineering manager for Portfolio Analytics.
"I'm so passionate about women's involvement in the creation of new technology," Sanders said, adding that when women are finally working side by side with men in all aspects of the field, "the world will change."
Panelist Erni said women bring "diversity of thought perspective" to the innovation process at Bloomberg.
"We make up half the population on Earth," she said. "We just want to have the best people on any problem."
About 100 Johns Hopkins students attended the presentation and afterward had an opportunity to network with the panelists and other business and recruitment leaders.
NCWIT, based in Boulder, Colorado, unites more than 575 universities, companies, non-profits, and government organizations in an effort to increase the number of women in technology. The group created the "Sit With Me" campaign where women in technology tell their stories in hopes of inspiring others.