OK, so it was technically their third night, but who's counting?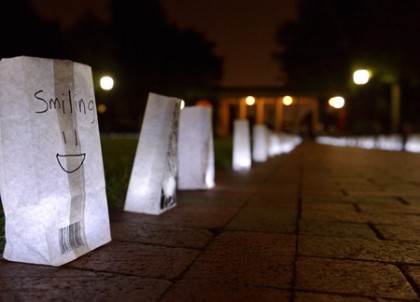 On Monday night, members of the Johns Hopkins Class of 2018 gathered on Keyser Quad, in front of Gilman Hall, for the annual First Night celebration, during which freshmen are officially inducted into the JHU student body by representatives of the sophomore, junior, and senior classes.
Orchestrated by the Executive Orientation Staff, First Night is a tradition that began in 2009 as a symbolic passing of the torch from upperclassmen to the new freshman class. This year, each incoming student was asked to write an S-word describing what makes them unique—like the "s" at the end of Johns—on the side of a white paper bag. Candles were placed in the bags along the Keyser Quad leading up to Gilman Hall, which was illuminated in blue. Then the clock tower bell rang 18 times, welcoming the new class.
This year's event was originally scheduled for Saturday night, the first night all members of the Class of 2018 were on campus, but was postponed due to rain.