The Johns Hopkins Carey Business School stresses teaching "business with humanity in mind." As part of their orientation experience, the newest class of Global MBA students volunteered to help with service projects at the Living Classrooms Foundation in Baltimore.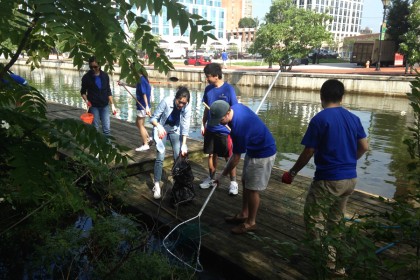 The Living Classrooms Foundation provides "hands-on" education and job training experience to young people by using urban, natural, and maritime resources. The Johns Hopkins Global MBA students tended gardens and removed storm debris from the waterways and wetlands at the Living Classrooms' Inner Harbor campus.
A smaller group of students helped the Baltimore-based Moveable Feast organization provide nutritious meals and other services to people who are sick and need support.
"Our volunteer projects are a great experience for students to learn to work in teams and to help the local community," said Angela Zeng, assistant director and academic advisor for the Carey Business School Global MBA program.