When more than 200 Nigerian schoolgirls were abducted in May by the terrorist group Boko Haram, people from all over the world demanded their release with millions of tweets marked #bringbackourgirls.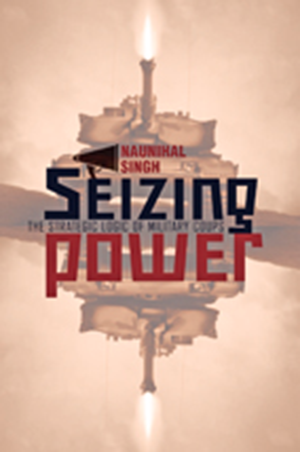 Three months later, the girls are still in captivity and "a viral hashtag, it seems, is a fever that breaks quickly," wrote Johns Hopkins University Press author Naunihal Singh in a blog post for The New Yorker.
Released in May, Singh's book, Seizing Power, discusses why some coups fail and others succeed. For The New Yorker, Singh offered suggestions about what tactics might bring about the girls' release.
So how to #bringbackourgirls, three months on? Foreign troops cannot swoop in and rescue the girls. Even if they are all in one place and can be located (Nigeria claims to know their location, but there are reasons to be skeptical), there is widespread agreement that it would be close to impossible to free them without a high number of casualties.

Instead, concerned global citizens have to work for the release of the girls with Nigerian groups. They have to shield local activists from government harassment, and battle the news cycle and compassion fatigue to keep the spotlight on the abductees (perhaps with monthly, coördinated bursts of grassroots efforts).

Last, and more controversially, international activists should support local calls for the government to negotiate the release of the hostages. The armed conflict is already so bad; it is hard to see how a deal could create incentives that would make things worse. In addition, Boko Haram has always wanted to exchange the girls for some of their jailed comrades. What is less clear is whether the Nigerian government is interested in doing so. There have been conflicting statements and rumors—that negotiations were ongoing, that Jonathan scuttled an agreement at the last minute. This would not be surprising, but it represents a loss that is, in one sense, irretrievable. The girls were about to take their exams at school when they were abducted. Each day that the girls remain in captivity is another, forfeited day that they remain in danger. If all our tweets and Instagram posts were truly driven by a desire to help these girls, then we have to stand with the people of Nigeria long after it is fashionable or trendy to do so.
Read more from The New Yorker