Seven individuals received honorary degrees at Johns Hopkins University's commencement ceremony today for their distinguished accomplishments.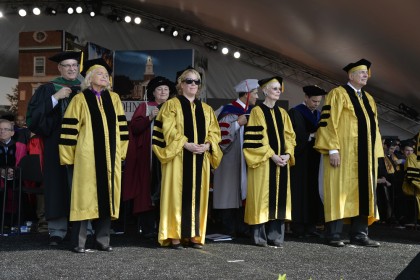 The recipients are:
Edith Windsor, a fearless fighter whose lawsuit against the U.S. government led the Supreme Court to declare that the1996 Defense of Marriage Act violated the Constitution. President Obama called the ruling a "victory for American democracy," and Windsor was hailed, at the age of 84, as a hero of the gay-rights movement.
Roberta Kaplan, a lawyer who took on Edith Windsor's case in 2009 pro bono and won. Kaplan, a highly respected attorney with degrees from Columbia and Harvard, has been described as a "powerhouse corporate litigator." She has received accolades from publications, such as The American Lawyer, and organizations, including the American Constitution Society. She is responsible for spearheading one of the most important civil rights victories of our time.
Taylor Branch, a Pulitzer Prize-winning author and historian whose trilogy, America in the King Years, helped foster a national dialogue on civil rights. Branch, who started his career at The Washington Monthly in 1970 has never shied away from the big story, covering subjects from Watergate to controversies in college sports.
Susan Wojcicki, Google's 16th employee and now the CEO of YouTube. Wojcicki, who also will be this year's Commencement speaker, had a profound impact on Google's transition from a startup housed in her garage to a $50.6 billion business responsible for more than 40 percent of digital ad revenue in the United States. Today, she is one of the country's most influential businesswomen and an advocate for advancing women's roles in technology.
Norman Augustine, former CEO and chairman of Lockheed Martin. Augustine, a trustee emeritus of Johns Hopkins, served for 16 years on the President's Council of Advisors on Science and Technology. He works tirelessly to ensure science and engineering are among our nation's top priorities and that future generations of Americans will have the skills necessary to remain competitive in a global economy.
Pamela Flaherty, former chair of the Johns Hopkins board of trustees, current president and CEO of Citi Foundation, and director of Corporate Citizenship at Citi. Flaherty, known for her compassion and boundless energy, supports lower-income families and individuals around the world with grant funding and other financial resources. Under her guidance, Citi has changed the face of corporate citizenship.
Fred Lazarus, president of the Maryland Institute College of Art. Lazarus has led MICA for 35 years and in that time has transformed it into one of America's leading art colleges. He helped to launch Baltimore's annual Artscape festival, which is now the country's largest free arts festival. He is a friend and trusted partner to Johns Hopkins, as well as a visionary working to serve the greater Baltimore community.