In its return trip to the NCAA tournament following a one-year absence, the Johns Hopkins men's lacrosse team overcame a shaky start and rolled to a 14-8 win against Virginia in front of more than 2,000 fans in Charlottesville, Va., on Sunday afternoon.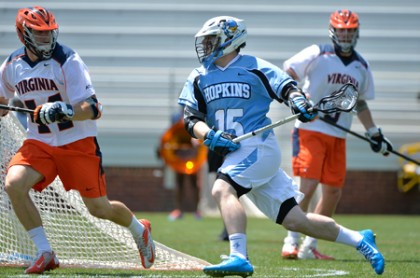 The Blue Jays (11-4) fell behind 2-0 against the eighth-seeded Cavs, but Brandon Benn's steal and score with just over nine minutes to play in the first quarter ignited an 8-0 run as JHU seized control. The Cavaliers (10-6) fought back to 9-8 in the third quarter thanks to a 6-1 run of their own, but Hopkins scored the game's final five goals to advance to the second round.
The Blue Jays will face top-seeded and defending national champion Duke—which defeated Air Force 20-9 in its first-round matchup—in a quarterfinal matchup Sunday at noon at the University of Delaware in Newark, Del.
Junior Wells Stanwick paced the JHU attack with five goals, equaling his career high and the school record for goals in an NCAA first-round game. Benn added four scores, and goalkeeper Eric Schneider made 12 saves.
The Blue Jays, who saw their streak of 41 consecutive postseason appearances come to an end last season, improved to 9-6 all-time against U.Va. in the NCAA tournament.
The win was the 158th for Dave Pietramala as the head coach at Johns Hopkins, equalling the mark set by Bob Scott, who led the Blue Jays from 1955 to 74.
Johns Hopkins will be aiming for its first trip to the NCAA semifinal round since 2008 when it takes on Duke on Sunday. Tickets are available on Ticketmaster.com, and the game will be televised by ESPNU.
Denver takes on Drexel in the second quarterfinal at Delaware on Sunday. On the other side of the bracket, Albany faces Notre Dame and Maryland takes on Bryant in quarterfinal matchups.
Of the eight seeded teams in the NCAA field of 16, only four—Duke, Denver, Notre Dame, and Maryland—advanced. No. 2 seed Syracuse, No. 3 seed Loyola, and No. 4 seed Penn all lost over the weekend.