More than 300 Johns Hopkins students and others—including JHU President Ronald J. Daniels—flexed their muscles on Saturday afternoon at the third annual Push event, where teams of eight worked together to push a 5,000-pound Humvee 80 yards down Homewood Field.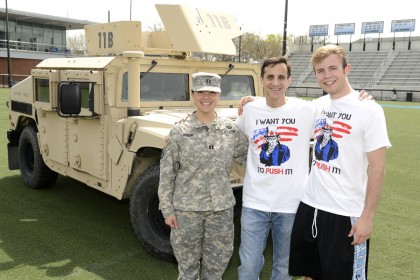 Times ranged from 23 seconds to 50 seconds; Team Wawa, from the Alpha Delta Phi fraternity, successfully defended its title and has posted the best time in each of the past three years. The team was captained by senior Mark Bozzo and also included Mike Zikoski, John Arena, Joe Ditrolio, Kyle Flynn, Brannock Feury, Stephanie Binder, and Alyssa Flemming.
The event, co-sponsored by the Phi Gamma Delta fraternity (also known as Fiji) and ROTC, raised about $10,000. The proceeds benefit the United Services Organization (USO), a nonprofit that supports U.S. soldiers and their families.