Sophomore Ryan Brown scored a career-best eight goals, but the Johns Hopkins men's lacrosse team came up short in a 12-10 loss to 10th-ranked Syracuse on Saturday at Homewood Field.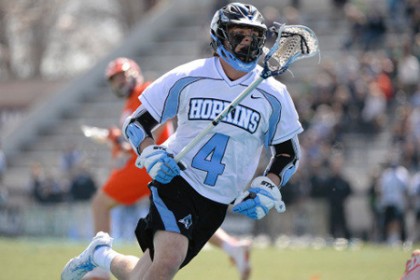 Brown scored the game's first goal for the No. 2 Blue Jays (5-1), but JHU never led after that as the Orange (4-2) built a 7-3 halftime advantage. Syracuse led 10-6 after three quarters, but Hopkins got within 10-9 on three consecutive goals by Brown in the first two minutes of the final period. That was as close as JHU would get, though, as the Orange held on to defeat the Blue Jays for the seventh time in the past eight meetings between the two schools.
Brown's eight goals were one shy of the school single-game record held by William Logan, who scored nine times in a 13-1 win against Virginia in 1927.
Holden Cattoni and Nick Fields also scored for Johns Hopkins, which returns to action on Saturday at No. 7 Virginia (6-2) at 4:30 p.m.