A 16-8 run over the final four minutes lifted the Johns Hopkins men's basketball team to a 60-55 win against top-seeded Dickinson in the Centennial Conference tournament championship game Saturday in Carlisle, Pa.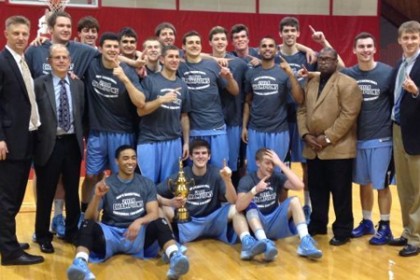 The win gave the Blue Jays (17-10), the tournament's No. 3 seed, their first conference championship since 2007. Johns Hopkins received an automatic bid to the 62-team NCAA Division III tournament and will face ODAC champion Virginia Wesleyan (22-6) on Friday. The Blue Jays will be making their 10th NCAA tournament appearance.
Junior George Bugarinovic scored 18 points for the JHU, and Connor McIntyre and Gene Williams added 12 apiece. The Blue Jays erased a five-point halftime deficit and converted seven of eight free throw attempts over the final minute to secure the victory.
Johns Hopkins went 4-6 in its first 10 games this season but won 13 of its final 17.