The Johns Hopkins Chinese Student and Scholar Association hosted a colorful Chinese New Year celebration on Saturday at Shriver Hall featuring a mix of traditional and modern musical and dance performances.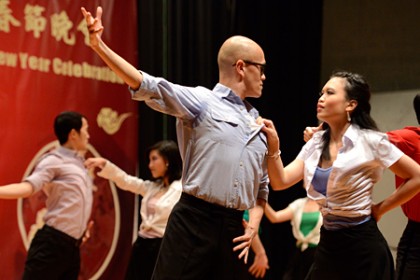 Chinese New Year—also known as Lunar New Year, because the timing of the celebration is based on the traditional Chinese lunisolar calendar—fell on Jan. 31 this year. It occurs annually in late January or early February, and each year is represented by an animal zodiac assigned on a 12-year rotating cycle. This year is the Year of the Horse.
The event also included participants from the CSSA's at Towson University; University of Maryland, Baltimore; and UMBC.
It was sponsored by the Sheridan Libraries, Office of Education Affairs, and the Embassy of the People's Republic of China.