The Baltimore Business Journal debuts a new look today and features an extensive centerpiece package about Johns Hopkins, with a focus on Hopkins' efforts in the community—specifically in East Baltimore and around the Homewood campus—and its recent push for more technology commercialization.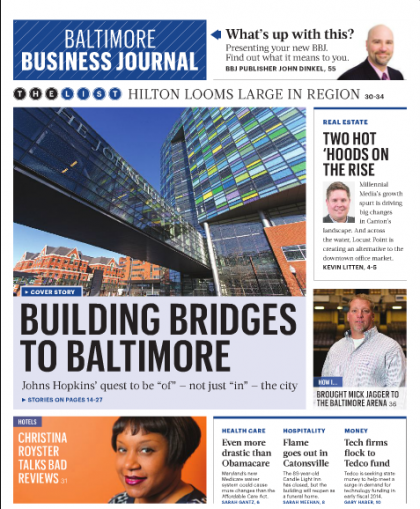 There are 10 Hopkins-related items total—all authored by BBJ reporter Sarah Gantz (@BaltBizGantz)—including paywall-protected Q&As with JHU President Ronald J. Daniels, Johns Hopkins Hospital President Ronald Peterson, and new JHU tech transfer chief Christy Wyskiel.
From the featured article, "Building bridges to Baltimore":
Hopkins is trying to shed its image as an untouchable international gem with a big push for technology commercialization designed to keep more Hopkins talent in Baltimore, create jobs through new startup companies and attract outsiders. Hopkins is making inroads in East Baltimore, where high vacancy rates, poverty and lack of business are in sharp contrast to the flagship Hopkins hospital based there. The university is rallying neighborhoods near its Homewood campus to come up with ways to bring in new business and give developers an incentive to build up the area.

"Hopkins is not just 'at' or 'in' but truly 'of' Baltimore," Daniels said. "Recognizing our role—economically, socially, in terms of ideas generation—on so many different dimensions requires a sense of even greater awareness of and commitment to the city."

The push is one that could dissolve a decades-old reputation of Hopkins as being aloof and more interested in international accolades than local popularity. But being a better community steward is also essential to Hopkins' future here. Hopkins will reap the benefits of a more vibrant neighborhood around it.

"This is our home," Daniels said. "We have been here a long time and we will be here a long time. Our futures—the future of Johns Hopkins, the future of Baltimore—are inextricably bound together."
Read more from Baltimore Business Journal