The Johns Hopkins volleyball team won its third consecutive Centennial Conference tournament title, defeating Muhlenberg in the final 25-11, 21-25, 25-23, 25-10 on Sunday in Lancaster, Pa.. The Blue Jays, who also knocked off top-seeded Franklin & Marshall in the semifinals, became the first No. 4 seed to win the league tournament.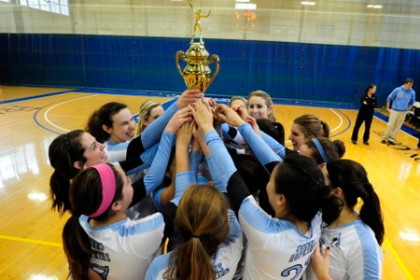 JHU junior Meagan Donohoe was named tournament MVP after totaling 50 kills and 17 digs in three matches. The Blue Jays (14-12), winners of five consecutive matches, face 17th-ranked Eastern (29-4) in the first round of the NCAA tournament on Friday.
"This is the strongest the conference has been in a long time, and we feel like we beat three pretty solid teams," JHU coach Tim Cole said. "We want to build on this and carry the momentum into next weekend. We're healthy and we're playing well, so we feel good about where we are right now. Our goal at the start of the season was to go well beyond the conference tournament, so this isn't the top of the mountain for us."
Johns Hopkins will be making its third consecutive NCAA tournament appearance. The Blue Jays were eliminated in the first round in each of the past two seasons.
Read more from hopkinssports.com