The School of Education hosted 37 4- and 5-year-olds from Samuel F. B. Morse Elementary School in West Baltimore on Thursday for the fourth-annual Pre-K at Play Day.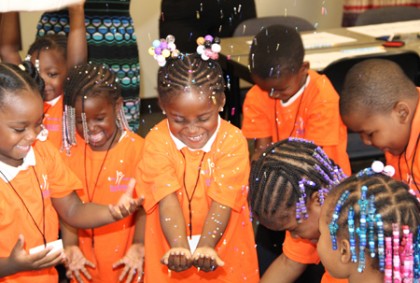 David Andrews, dean of the School of Education, welcomed the two pre-K classes by playing a few favorite children's songs—including "Old MacDonald Had a Farm"—on his guitar. The students then took part in a variety of classroom activities, including learning how to make slime and using black lights to detect germs, with representatives from JHU's schools of Engineering, Nursing, and Education.
"We love coming to Johns Hopkins and how the staff make our children feel so welcomed," said Joma Mangen, a pre-K teacher. "The activities are fun and educational. Our students talk about them for weeks after."
Pre-K at Play, an annual event that includes thousands of students from Baltimore City Schools, aims to support early learning through exploration and play. Participating venues includes area museums, parks, libraries, and performing arts centers.