The School of Nursing's Class of 2013 sure has one eye for design.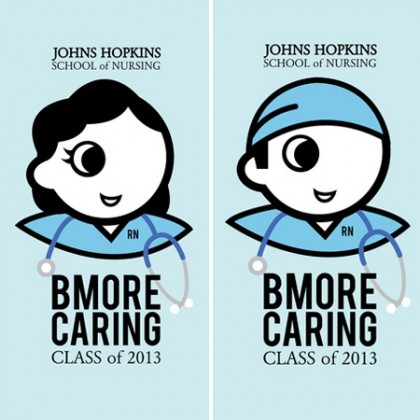 A smiley faced—and rather charming—likeness of Baltimore's intrepid Mr. Boh character will adorn T-shirts and other items honoring the first cohort of the school's 17-month accelerated bachelor's program, which is set to graduate in December.
The one-eyed female and male characters come decked out in blue scrubs and a stethoscope, with the slogan "BMORE CARING" underneath. The concept came from nursing students Amy LeBailly and Carlee Peck, who wanted a memento of their time at the School of Nursing and to give a nod to their adopted home.
"We really liked the Natty Boh character design and its connection to Baltimore, and wanted to incorporate that into a class shirt," said LeBailly, co-director of the Class of 2013 and a native of Evanston, Ill. "The Bmore Caring slogan really struck a chord with us, its sentiment of empathy and community. Many of us are from other parts of the country, but we've grown to love and care for Baltimore. So we thought this was an appropriate way to signify the end of our journey."
The characters and slogan are the handiwork of York, Pa.-based artist Christine Giuffrida, who has created a litany of similar one-eyed art. In addition to T-shirts, the nursing characters can be found on hoodies, tote bags, stationary cards, iPod cases, and other gear, all of which is for sale online at Giuffrida's website.