JHU Spring Fair 2013: Funnel cake, fried Oreos, and other (non-fried) things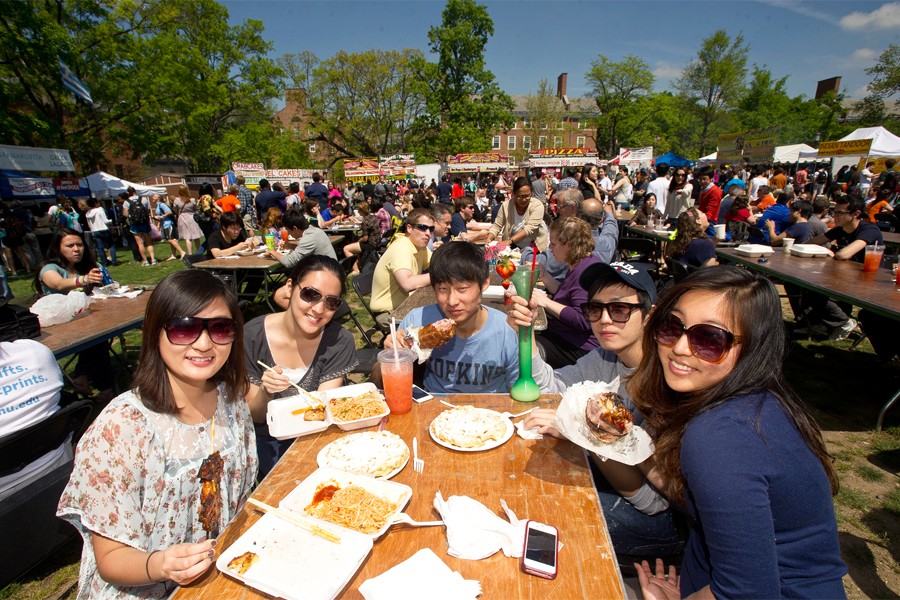 The 42nd annual Johns Hopkins Spring Fair kicks off Friday on the university's Homewood campus. The event, which is free and open to the public, includes arts and crafts, live music, a children's section, and a food court.
We asked students what they were looking forward to most at Spring Fair this year. Not surprisingly, many of them mentioned food (much of it fried).
"I'm really excited to buy my first funnel cake this year."
—Nathan Buchbinder, sophomore, biomedical engineering
"Definitely the blooming onion."
—Chibuzo Osakwe, sophomore, chemical and biomolecular engineering
"Pad Thai!"
—Haley Veldt, junior, history
"I'm looking forward to more funnel cake."
—Leslie Myint, senior, biomedical engineering/applied mathematics and statistics
"Chicken on a stick."
—Camille Tambunting, sophomore, Writing Seminars
"Fried Oreos, definitely."
—Brittany Zwang, freshman, history of art
"Funnel cake and strawberry lemonade. Definitely my go-to spring fair food."
—Victoria Schroeter, junior, biology
"The boutiques, especially the ones that sell jewelry. There was this one lady last year who measured my finger and customized a ring for it."
—Autumn Cadogan, sophomore, chemical and biomolecular engineering
"I'm participating in the Red Bull Chariot Race as a part of Team Trojan. Each team of three must build their own chariot, usually a shopping cart or wheelbarrow, and wear creative costumes. I definitely look forward to competing in a race wearing nothing but sheets and decorating our chariot in the Trojan theme."
—Jahan Mirchandani, freshman, international studies/political science
"I recently turned 21, so I can finally experience the beer garden. I'm so excited."
—Samantha Ritwo, junior, writing seminars/history
"Each Spring Fair, there's a concert. This year, it's Grouplove and Carolina Liar."
—Rebecca Rabinowitz, sophomore, history
"I'm excited for the entire student body to just forget about school for 48 hours, go outside, and relax."
—Grace Marshall, sophomore, public health
"Beer garden, definitely! Deep fried Oreos, too."
—Afroditi Xydi, junior, environmental engineering/economics
"I'm looking forward to volunteering in the kids' section."
—Michael Dawedeit, senior, public health studies
"The kickoff party with fireworks."
—Camelia Viallet, Senior, economics/international studies
"So excited for the smoothies and the Film Fest."
—Courtney Whitelock, sophomore, undeclared
"Food trucks and eating fried Snickers."
—Olivia Seideman, freshman, earth and planetary sciences/international studies
"Fried Oreos and the Velcro wall."
—Lucie Fink, junior, Writing Seminars
"I've heard there's a lot of cool food"
—Maddie Goodman, freshman, public health
"Just being outside."
—Becky Sturner, junior, psychology
"A cathartic experience to tie together my time at Hopkins and making lasting memories (in the beer garden)."
—Adam Miller, senior, neuroscience
You might also like
Trending