The Johns Hopkins women's cross-country team captured its first Division III national championship on Saturday in Terre Haute, Ind., placing three runners in the top 32 for a convincing victory.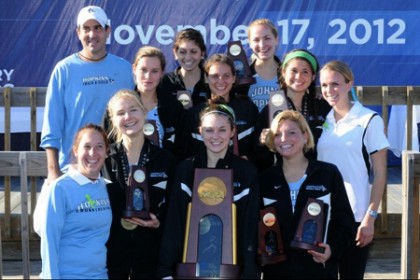 Freshman Hannah Oneda paced the Blue Jays with a 10th-place finish in 21:27. Teammate Holly Clarke took 25th in 21:51, and Annie Monagle was 32nd in 21:56.
Johns Hopkins totaled 153 points as a team. Wartburg finished second with 221, followed by Claremont-Mudd-Scripps (233), Williams (266), and Wisconsin-Eau Claire (272).
Sophia Meehan (85th), Ashley Murphy (88th), and Lara Shegoski (89th) rounded out the top six runners for JHU.
"Much of our success involved setting the right mood and having our team enjoy the national championship atmosphere," Johns Hopkins coach Bobby Van Allen said in an interview posted on the athletics site for Rose-Hulman Institute of Technology, which hosted the meet. "As far as team tactics, we had our four, five and six really pack up, and they did it perfectly. They all tied and that pretty much sealed it for us."
"It hasn't really set in yet that we are national champions," Van Allen added. "It feels unbeliveable for our department, our entire program, all of Johns Hopkins. It's such a nice family to work with that this is for everybody, and of course the 45 girls that make up our team."