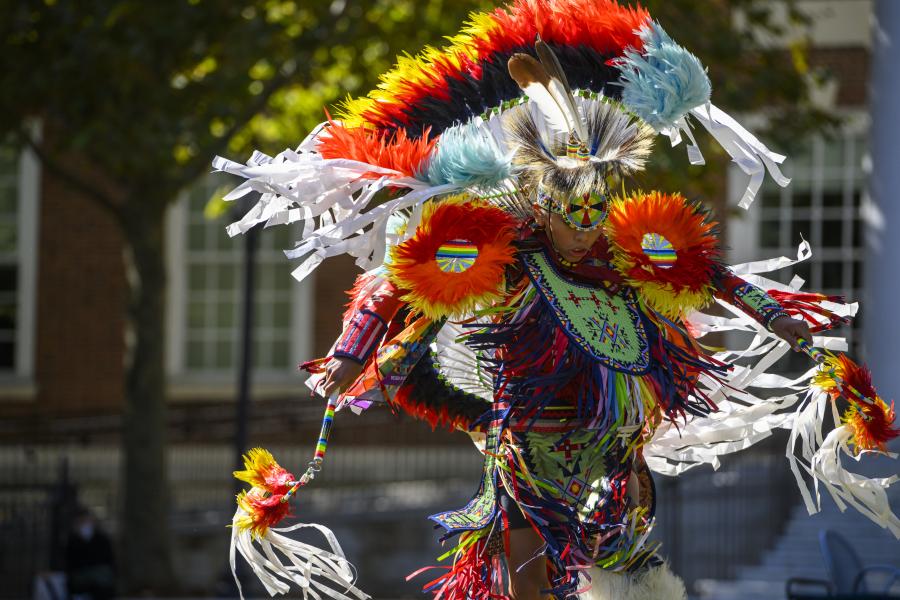 Fourth annual powwow celebrates Indigenous communities
The event celebrates the culture and contributions of Indigenous people on campus and beyond
By Hub staff report
/
Published
Oct 11, 2022
To honor Indigenous Peoples' Day on Monday, the Johns Hopkins community held its fourth annual powwow event, with food, singing, and dancing on the university's Homewood campus.
Indigenous Peoples' Day, which began in South Dakota as an alternative to Columbus Day in 1989, reimagines the observance of Columbus Day, which was seen as a celebration of colonialism, and instead offers a space to honor the history of indigenous peoples in the Americas and their work against past and current injustices. The movement to acknowledge Indigenous Peoples' Day is spreading, and President Joe Biden became the first U.S. president to declare a presidential proclamation for the day in 2021.
Sponsored by the university's Center for Diversity and Inclusion, Indigenous Students at Hopkins, the Center for Indigenous Health, and Peabody Student Affairs, the powwow invited tribes from across the Americas, including from Canada and Bolivia, to participate. Hayden Fox, a senior at Johns Hopkins who is involved in the Indigenous Students at Hopkins organization, said the tribes celebrated with many different styles of dance, including jingle, traditional, grass, and smoke dancing. All community remembers are invited to join in the celebrations as a way to connect and learn.
"For a group of people who are so underrepresented here, it's important for us to really get out and share our culture with the rest of the students and really celebrate what our culture is," Fox said.
The land acknowledgement component of the powwow—which highlights the tribes who were indigenous to the land prior to the establishment of Johns Hopkins—is just as important as the dancing, according to event organizers. The university sits on the unceded land of the Piscataway and Susquehannock peoples, and the university recognizes that Baltimore City remains home to Piscataway, Lumbee, and Eastern Band of Cherokee community members.
"I think a big part of what we can take away from here today is acknowledging the fact that we are still here as a people," Fox says. "As much as our culture was attempted to be erased, we are still here, and we are still able to celebrate."