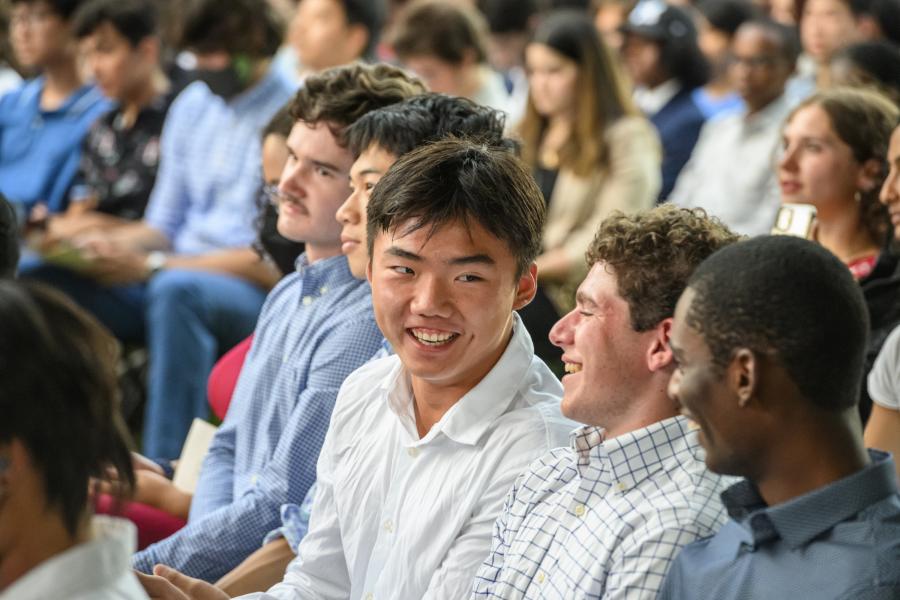 Class of 2026 officially joins Johns Hopkins student body
During annual Convocation ceremony, JHU President Ron Daniels encourages students to be their authentic selves
By Saralyn Cruickshank
/
Published
Aug 30, 2022
More than 1,300 members of the Class of 2026 and their transfer student peers received a formal welcome Sunday evening at the university's annual Convocation ceremony.
Held outdoors on Keyser Quad of the university's Homewood campus, Convocation marks the official beginning of a student's academic journey at Hopkins. It's also their first formal introduction to each other.
In his remarks, David Phillips, vice provost for admissions and financial aid, described the incoming Class of 2026. They represent 44 states and Washington, D.C., as well as 31 other countries and three territories. More than 95% come to Hopkins with some form of community service under their belt, and 57% were involved in political activities such as student government or social justice or environmental activism; more than half were employed during their high school years, and 21% are first-generation college students; 68% are artists, and 90% were involved in athletics.
"You've made a positive impact on your community and the world, and demonstrated the core ethos of Johns Hopkins by stepping up when it was most needed," Phillips said.
During the ceremony, the class photo was revealed, showing the entire incoming first year class together.
Yet in the midst of celebration, introduction, and togetherness, it is also common to experience fear or anxiety when meeting new people and encountering unknown environments. JHU President Ron Daniels advised the new students to suppress the urge to hide who they are in order to fit in.
"When you don a metaphorical mask, or self-censor to reflect someone else's image of the person they think you should be, you deprive this community, our university—of which you are now and forever a part—of being shaped by the vital contributions that you and you alone can make to our collective life," Daniels said. "You come our way only once, and we are desperate to benefit from all that makes you you. So trust us to accept the authentic you, and trust yourself to let us know and accept your true self."
Read the president's full remarks online.