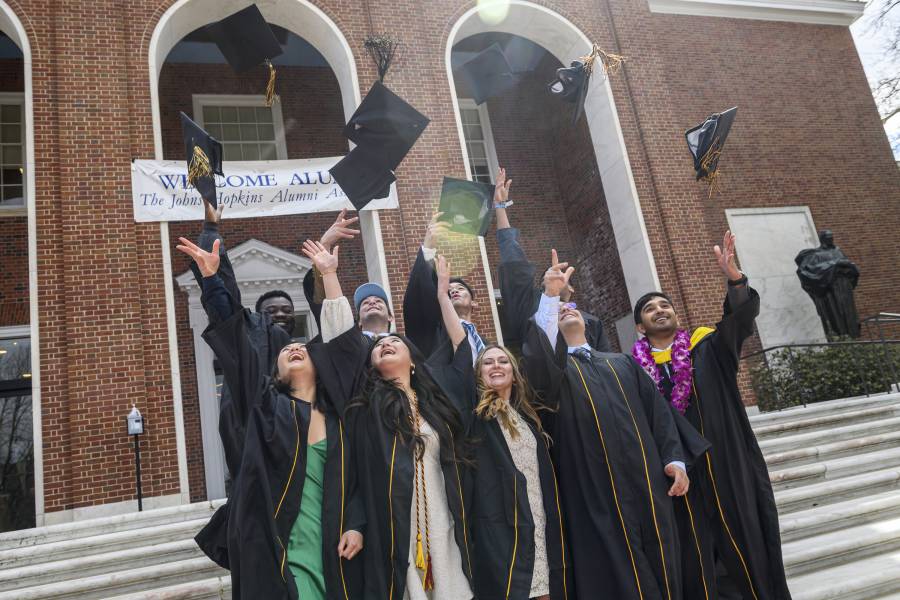 Together again, two years later
Members of the Johns Hopkins University Class of 2020 gathered during Alumni Weekend for an in-person Commencement ceremony two years after the COVID-19 pandemic disrupted their senior year on campus
By Hub staff report
/
Published
March 28, 2022
After their in-person ceremony was canceled at the height of the coronavirus pandemic, the Johns Hopkins Class of 2020 was invited back to the university's Homewood campus Sunday to walk across the stage in a special ceremony held as part of Alumni Weekend.
About 480 graduates and their guests participated in the ceremony, which took place on Decker Quad and featured remarks from university President Ron Daniels.
"I recognize that Commencement week in May 2020 was not, perhaps, the culmination of your college experience that you had imagined or hoped for," Daniels said. "Today's ceremony may never fully fill that void, but I hope that this moment is still meaningful and galvanizing for you as the great Class of 2020—a class that experienced something profound and historic together—even when you were apart."
Added Maureen Marsh, secretary of the university's board of trustees: "The pandemic disrupted all our lives, and, for the Class of 2020, it meant missing special senior spring moments, including being together—in-person—for Commencement. We were delighted to get one of those moments back this weekend. Welcoming these young alumni back to campus to celebrate this important capstone was truly joyful for all of us in the Hopkins community."
The 2020 ceremony was the first university commencement to be held entirely online. The virtual ceremony recognized more than 9,000 graduates, including more than 1,400 undergraduates. Among the guest speakers to share messages of encouragement and congratulations with the graduates were philanthropist and former New York City Mayor Michael R. Bloomberg and Anthony Fauci, director of the National Institute of Allergy and Infectious Diseases and chief medical advisor to President Joe Biden. The Commencement speaker was internet entrepreneur Alexis Ohanian, who co-founded the news aggregator Reddit.