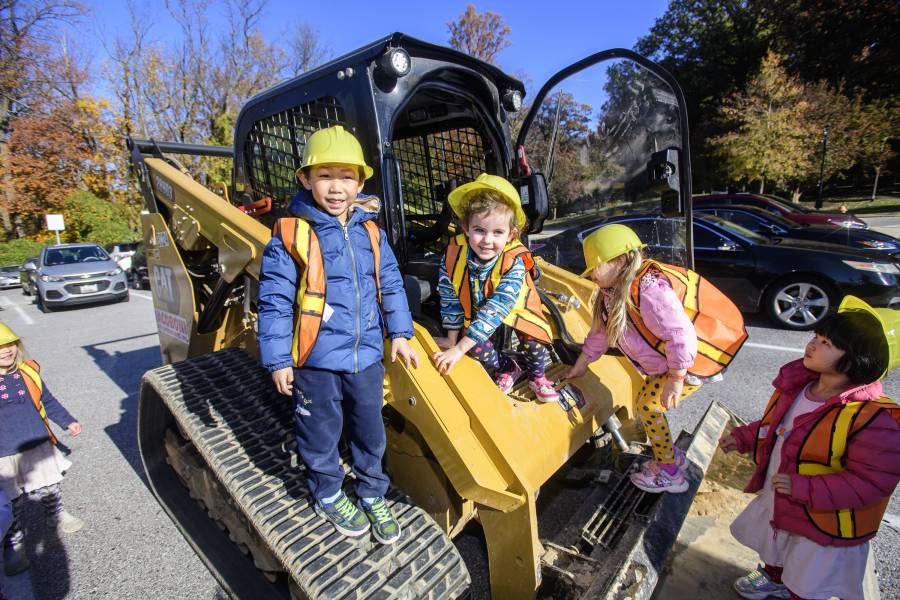 Big trucks visit instruction zone
Construction equipment from the SNF Agora Institute project site took a temporary detour to the Homewood Early Learning Center last week
By Hub staff report
/
Published
Nov 23, 2021
Children at the Homewood Early Learning Center got a surprise visit from some new—and noisy—neighbors last week.
Construction equipment from the site of the future home of the Stavros Niarchos Foundation Agora Institute, located just across Wyman Park Drive, rumbled over to greet ELC classes. The children were treated to some hands-on time with a front-end loader and a skid steer, and also received vests and hardhats.
"My son was so excited when he saw the construction trucks coming to this preschool," said Consuelo Amat, an SNF Agora Institute faculty member whose 4-year-old son attends the ELC. "He is a big construction truck fan and has the toys, but getting to play with the real ones was really special. He also hasn't stopped wearing the vest and hat he got."
Members of the design and construction team for the SNF Agora building project also attended the visit. The project, which began this past summer, is scheduled to be completed by the fall of 2023.
The event was coordinated by Johns Hopkins Facilities and Real Estate, Consigli Construction, Ayers Saint Gross, and the Homewood Early Learning Center.