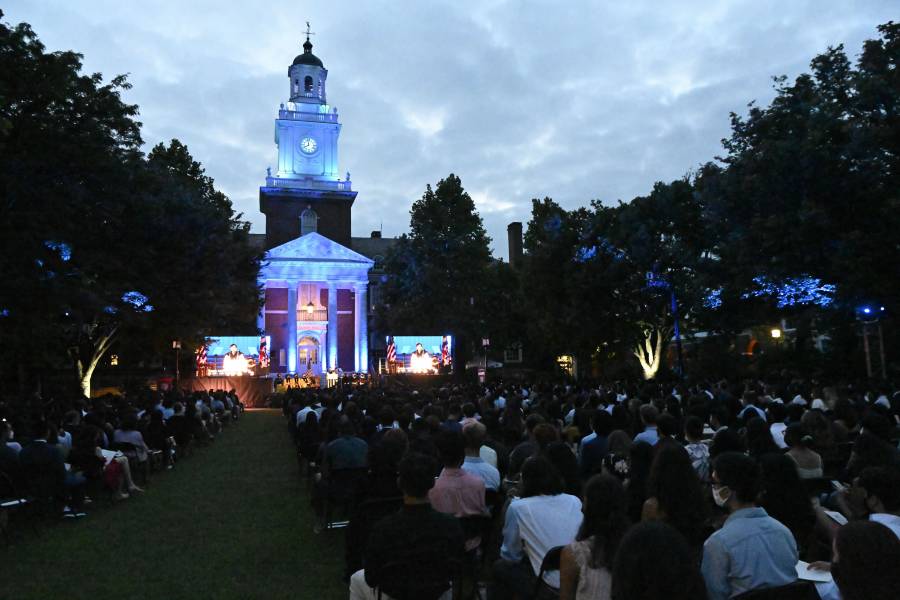 Daniels: 'Speak openly and freely with one another, and also listen intently and generously'
Johns Hopkins officially welcomes the Class of 2025 and other new undergraduate students at its annual Convocation ceremony
By Hub staff report
/
Published
Aug 30, 2021
Johns Hopkins University's newest undergraduate students—more than 1,400 from the Class of 2025 plus transfer students—received a formal welcome Sunday evening at the university's annual Convocation ceremony.
The event, held virtually a year ago with most students beginning the 2020-21 academic year from home amid the COVID-19 pandemic, returned to the Homewood campus with an outdoor gathering on Keyser Quad. Convocation marks the official beginning of a student's academic journey at Hopkins, an experience bookended by Commencement.
"Tonight, you officially enter an academic community devoted to pursuing truth through fact-based research, reason, and vigorous, open-minded debate," JHU President Ron Daniels said, after recounting an episode of The Twilight Zone in which neighbors turn against one another due to doubt and mistrust following explained happenings. "A community that believes we can access a shared conception of reality through the combined, cumulative efforts of a vast network of scholars working in tandem around the world. A community that understands that creating knowledge is not a solo endeavor, but a communal one.
"And this is also a community that welcomes—nay, insists upon—critique and insight from people whose backgrounds, beliefs, and fields of study differ from our own in order to arrive at a common understanding of the world we inhabit.
"So, Class of 2025, my call to you is this: Speak openly and freely with one another, and also listen intently and generously. Challenge ideas you disagree with, and invite others to challenge your ideas. And do so in a manner that calls people in rather than calling some people out."
Read President Daniels' full remarks from Convocation 2021