Student Meet-and-Greet with the Institute for Global Tobacco Control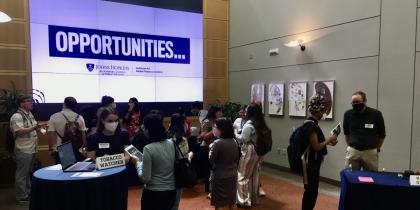 Description
Stop by the Institute for Global Tobacco Control's (IGTC) information table at the Wall of Wonder to receive some free swag, meet members of the team, and learn about work opportunities and exciting projects for public health students at the IGTC.
Undergraduate, master's, and doctoral students are invited to attend this informal meet-and-greet with members of IGTC's team to discuss academic goals, project interests, and opportunities involving firsthand experience supporting IGTC's mission to prevent death and disease from tobacco products.
For accessibility accommodations, please contact Scott Klein at sklein1@jhu.edu or 410-614-1550.
Celebrating 25 years this semester, the IGTC works to build the evidence base informing efforts to end the tobacco epidemic as soon as possible. Since 1998, the IGTC has strived to produce and assemble the best available information to empower policymakers and public health professionals to implement policy changes to prevent tobacco-caused death and disease.
Contact