Department of Materials Science & Engineering Spring Seminar Series: Eva Zurek
Who can attend?
General public
Faculty
Staff
Students
Contact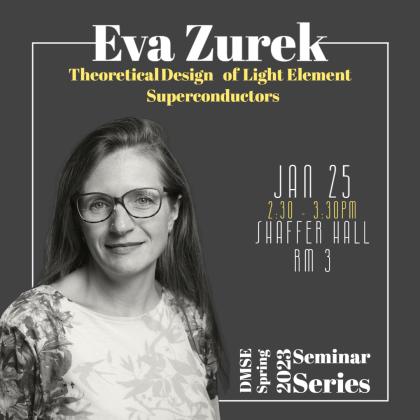 Description
Eva Zurek, a professor in the Department of Chemistry at the University at Buffalo, will give a talk titled "Theoretical Design of Light Element Superconductors" for the Department of Materials Science and Engineering.
Abstract:
Advances in ab-initio crystal structure prediction algorithms, methods for calculating electron-phonon interactions, and machine learning have opened the door towards the rational discovery of conventional superconductors with superior characteristics.
Herein, we report theoretical studies of various light-element based superconductors that are discovered using the XtalOpt evolutionary algorithm for crystal structure prediction, or via high-throughput calculations on prototype structures known to be conducive towards superconductivity. Room-temperature superconductivity in SH3 doped with a third element under pressure has been reported. To shed light on the structures that may have been synthesized we carry out a systematic investigation of the effect of doping H3S by carbon and phosphorus, considering different doping schemes. Moreover, we show how a chemical pressure analysis can be useful in designing ternary or quaternary clathrate superhydrid superconductors that can be stabilized to lower pressures. Finally, we consider carbon-containing superconducting materials stable at ambient conditions, some which are predicted to be superhard.
Who can attend?
General public
Faculty
Staff
Students
Contact