IGC's Inaugural Yard Fest
Who can attend?
General public
Faculty
Staff
Students
Contact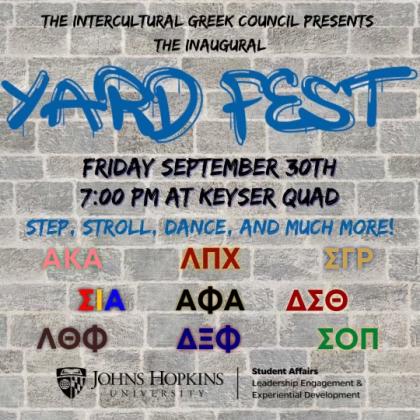 Description
The Block Party just got upgraded: Come to the Intercultural Greek Council's Inaugural Block Fest for step, stroll, dance, and other performances from the culturally based fraternities and sororities on campus. See incredible guest performers. Join in for pizza afterwards at the LaB at Final Fridays.
This event will feature:
Members of the Intercultural Greek Council (The Xi Tau Chapter of Alpha Kappa Alpha Sorority, Inc., The Sigma Sigma Chapter of Alpha Phi Alpha Fraternity, Incorporated, The Mu Psi Chapter of Delta Sigma Theta Sorority, Inc., The Lambda Chapter of Delta Xi Phi Multicultural Sorority, Inc., The Sigma Chapter of Latinas Promoviendo Comunidad/Lambda Pi Chi Sorority, Inc., The Rho Omega and Beta Tau Chapters of Sigma Gamma Rho Sorority, Incorporated, The Beta Zeta Chapter of La Hermandad de Sigma Iota Alpha, Incorporada)
The Delta Rho Chapter of Lambda Theta Phi Latin Fraternity, Inc.
Students of Caribbean Ancestry Dance Group
Who can attend?
General public
Faculty
Staff
Students
Contact