Milton S. Eisenhower Symposium: Jim Obergefell
Who can attend?
General public
Faculty
Staff
Students
Contact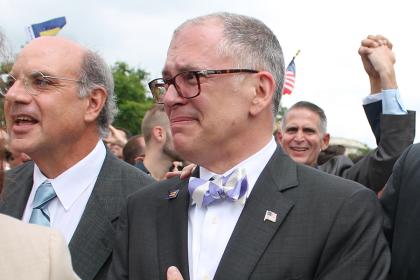 Description
Jim Obergefell, a self-described accidental activist, was the lead plaintiff in the 2015 U.S. Supreme Court case Obergefell v. Hodges, which legalized same-sex marriage throughout the U.S. In 2013, Obergefell sued the state of Ohio due to that state's lack of legal recognition of Obergefell's marriage to his husband, John Arthur. His story and the stories of others involved in the case are captured in the book Love Wins: The Lovers and Lawyers Who Fought the Landmark Case for Marriage Equality, co-authored by Pulitzer Prize-winning investigative journalist Debbie Cenziper. Obergefell is dedicated to the fight for equality, not just for the LGBTQ community but for civil rights for all.
This is the first installment of the 2022 Milton S. Eisenhower Symposium, a student-run lecture series at the Johns Hopkins University. The symposium aims to deliver world-class speakers to the university and its surrounding community. All events are free and open to the public.
Who can attend?
General public
Faculty
Staff
Students
Contact