Plein Air Painting at Evergreen
Who can attend?
General public
Faculty
Staff
Students
Contact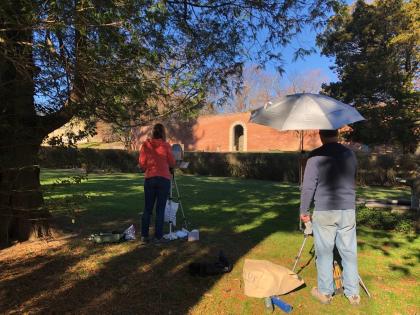 Description
Evergreen Museum & Library is now offering plein air painting sessions on the museum grounds. There will be two sessions per month, from June through October, and each session will last two hours. Attendees can document the change of seasons at Evergreen, which boasts formal gardens with statues and fountain, lawn areas, woods, and a stream.
The use of pencils, pens, watercolor and acrylic is permitted only on unpaved or cobbled areas. You are free to set up throughout the grounds, but please be aware of signage that may limit access to certain areas. Supplies are not included with purchase of ticket.
Visitor Information
Please bring your own equipment
All visitors must check in at the Gift Shop before setting up their easel
Free self-guided tours of the gardens and grounds are included in admission and can be picked up at the Gift Shop
Free parking is available on site
In case of inclement weather, you will be notified to reschedule or cancel
Who can attend?
General public
Faculty
Staff
Students
Contact