Grace Notes in American History: Curator's Highlights Tour
Who can attend?
General public
Faculty
Staff
Students
Contact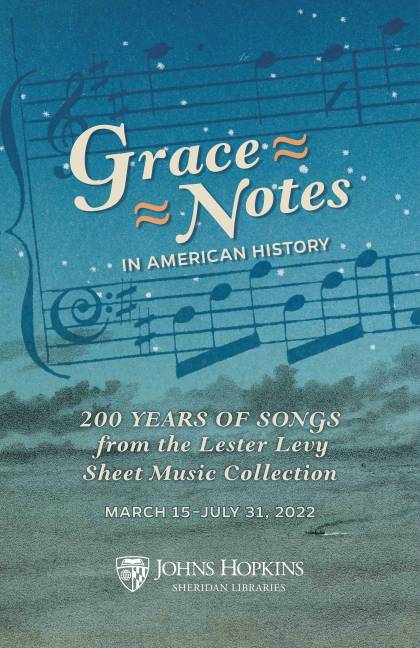 Description
Grace Notes in American History: 200 Years of Songs from the Lester Levy Sheet Music Collection explores the many ways in which sheet music has been used throughout U.S. history: popular culture, advertising, propaganda, and of course, entertainment. The exhibit is on view at the George Peabody Library from March 15 through July 31, 2022.
This tour and Q&A with exhibit curator Sam Bessen will feature gems from the Sheridan Libraries sheet music collections, including:
A recently re-discovered manuscript that claims to be penned by Edgar Allan Poe
The greatest hits of New York's Tin Pan Alley era and the Harlem Renaissance
Music created by Baltimore's early publishers
Songs signed by celebrities including Amelia Earhart and Ira Gershwin
Spanning 30,000 songs and 200 years of history, the Lester S. Levy Collection is one of the largest digitized sheet music collections in the world. More than a gathering of catchy tunes, the collection provides a comprehensive perspective on American social and popular culture from the late 18th through the 20th centuries.
All in-person events at Johns Hopkins must follow university COVID-19 policies. See current guidelines online.
Who can attend?
General public
Faculty
Staff
Students
Contact