Engineering in Aging Research: The 14th Annual INBT Nano-Bio Symposium
Who can attend?
Faculty
Staff
Students
General public
Contact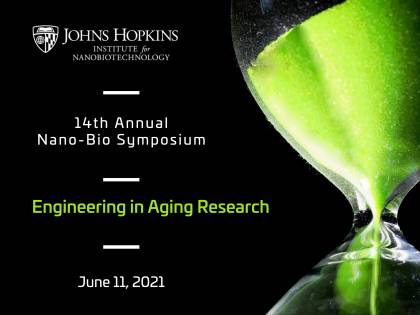 Description
All are welcome to the virtual 14th Annual Nano-Bio Symposium on Engineering in Aging Research, hosted by the Johns Hopkins Institute for NanoBioTechnology.
Census data from the U.S. projects that by 2050 the 65-year-old population will double and about 20% of the population will be over 60 years old. A rapidly aging world is expected to induce socio-economic burdens, including age-associated diseases, disabilities, multi-morbidities, polypharmacy, and healthcare costs. Engineers and their collaborators are positioned to explore and provide solutions to these challenges and more to promote healthy aging and well-being.
Who can attend?
Faculty
Staff
Students
General public
Contact