Center for Social Concern Civic Sessions: Civic Engagement After Election Day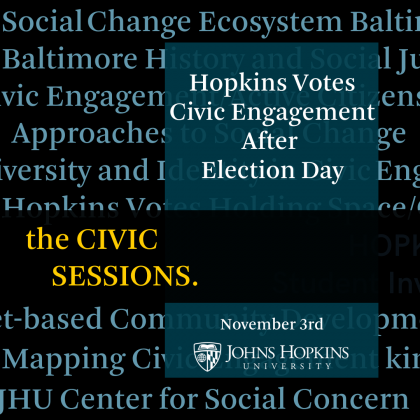 Description
Student participants will consider the next steps in their civic journey following the 2020 election. Topics of discussion include:
what can local results mean for students both in Baltimore and in their local community
how can they build community around the issues they care about moving forward
Civic Sessions is designed to offer Johns Hopkins student participants the opportunity to learn about diverse theories of civic engagement. Students will explore their civic agency through multiple civic topics over the course of seven weeks with built-in reflection time for community building through Zoom breakout groups. Students are not required to attend each session but can pick and choose the sessions that are most interesting to them and their own civic journey.
This event is hosted by the Center for Social Concern and Hopkins Votes.
Contact