Thriving in an academic career
Who can attend?
Faculty
Staff
Students
General public
Contact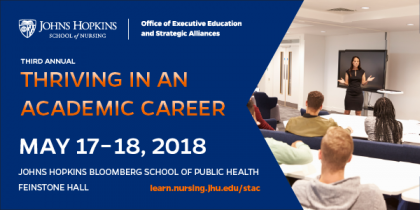 Description
Now in its third year, this university-wide event draws participants from JHU and surrounding universities. This two-day event will feature interactive workshops to help you navigate the opportunities and challenges of an academic career in any discipline. Renowned experts in specialty fields will guide you through the elements of an academic career so you can develop the strategies to not only succeed, but thrive.
Topics include:
Keys to early success in academia
Creating and managing your brand
Persuasive communication
NIH grant submission and review process
Finding a faculty position
Writing and publishing best practices
Grant writing
Finding a mentor
How leaders handle difficult questions
Speakers include leadership from JHU Schools of Medicine, Nursing, Public Health, and Business, as well as the NIH and more.
Hopkins presenters include:
Patricia Davidson, dean of the Johns Hopkins School of Nursing
Ellen MacKenzie, dean of the Johns Hopkins Bloomberg School of Public Health
Denis Wirtz, vice provost for research at Johns Hopkins University
Who can attend?
Faculty
Staff
Students
General public
Tickets
Cost for students is $100. Cost for general public and faculty is $300. Full-time, benefits-eligible JHU Employees and Faculty may apply for tuition remission
Contact