2018 Diversity Recognition Awards Ceremony
Who can attend?
Faculty
Staff
Students
General public
Contact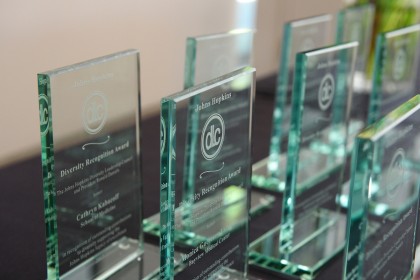 Description
The Diversity Leadership Council is proud to announce the 2018 Diversity Recognition Award recipients! These awards recognize exceptional contributions of faculty, staff, and students in advancing and celebrating diversity and inclusion at Johns Hopkins. All are invited and welcome to attend. Refreshments will be served, and we will have a live performance from local musicians.
Individual awards:
Ifunanya Agbim, Johns Hopkins Hospital
Adler Archer, School of Medicine / Carey Business School
Ebuka Arinze, Whiting School of Engineering
Sylvie DeLaHunt, Applied Physics Laboratory
Paul Giles, Hopkins Community Physicians at Bowie
Erica Nicole Johnson, Johns Hopkins Bayview
Tina Kumra, Johns Hopkins Community Physicians
Dora Malech, Krieger School of Arts and Sciences
Rachel Moseley, Johns Hopkins Bayview Medical Center
Madelynn Wellons, Krieger School of Arts and Sciences
Group award:
Out for Business Affinity Group, Carey Business School
Who can attend?
Faculty
Staff
Students
General public
Contact