Downfall of the Exhibition: Ephemera and Opposition at the Crystal Palace
Who can attend?
Faculty
Staff
Students
General public
Contact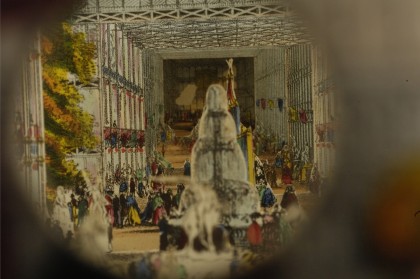 Description
The Great Exhibition of 1851, the first World's Fair, is often considered a high point of Victorian didacticism, royalism, and earnestness. Housed in the "Crystal Palace," a giant plate glass and cast iron structure in Hyde Park, London, it was a spectacular display of "the Works of Industry of All Nations."
Jo Briggs, an associate curator of 18th and 19th century art at the Walters Art Museum, examines the official view of the Fair—as systematic, decorous, and modern—that was put forward in catalogs, government reports, and newspaper articles… and finds it wanting. Focusing on a neglected set of ephemeral sources, such as broadside ballads, she reveals a bawdier, subversive, and more unruly popular side to this groundbreaking event.
Please join us for this fascinating dive into the "Crystal Palace" archive, accompanied by selected objects from the Sheridan Libraries' World's Fairs collection.
Who can attend?
Faculty
Staff
Students
General public
Contact