Who can attend?
Faculty
Staff
Students
General public
Contact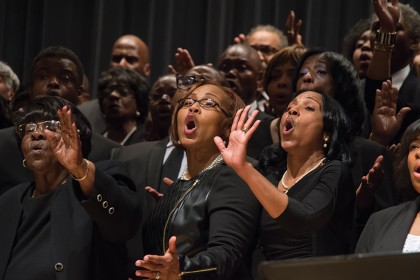 Description
This gospel concert will feature:
The Divine Voices of Praise from Ark Church with Marcus D. Smith, minister of music
The Sanctuary Choir from New Shiloh Baptist Church with W. Patrick Alston, worship music consultant
Peabody Conservatory Gospel Students with Andrew Talle, musicology faculty
The groups will perform the following compositions:
"Stay with God" by Ricky Dillard
"Take It to the Lord in Prayer" by Nolan Williams
"Oh Give Thanks unto the Lord" by Derrick Jackson
"What He's Done for Me" by Eddie Robinson
"Let the People Praise Him" by William Johnson
"Healing" by Richard Smallwood
"Thank you" by Walter Hawkins
"That Name" by Richard Smallwood
"Better" by Hezekiah Walker
This concert is sponsored in part by Paula Boggs.
Who can attend?
Faculty
Staff
Students
General public
Contact